On May 8, 2018, Professor Nigel Wright, Pro Vice-Chancellor of De Montfort University, UK and the LOC Chair of the 7th International Conference on Flood Management (ICFM) visited IWHR and made a lecture on urban flood resilience. IWHR Vice President Peng Jing hosted the lecture.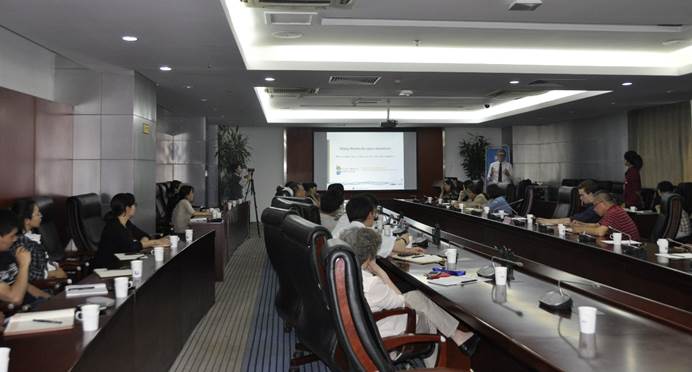 Peng Jing welcomed Prof. Wright and thanked him for his tremendous support to IWHR in hosting the permanent secretariat of ICFM. Speaking highly of Prof. Wright's academic achievements, Peng Jing hoped to take the lecture as an opportunity to enhance bilateral cooperation and the application of new technologies.
Prof. Nigel Wright showed his sincere gratitude for the warm reception of IWHR. He fully recognized the qualification of IWHR in hosting the ICFM secretariat and emphasized the influence and importance of ICFM platform to global flood management and cooperation.
In his lecture titled Urban Flood Resilience in an Uncertain Future, Prof. Wright introduced the transition of flood management concept from flood control to coexistence with flood, and the scientific, social and political barriers for enhancing the resilience of traditional grey infrastructure and blue-green infrastructure. Illustrated with the Newcastle case, he also denoted that, as an aggregation of multiple systems, city should integrate and coordinate all its systems to jointly cope with floods.
Informative and thought-provoking as it is, the lecture received keen attention from the audience. Questions were raised regarding the standards of flood resilience, urban resilience evaluation, challenges in reality, feasible measures of storm water usage, effective way of flood reduction, public education on flood risks and response, etc.